FAMILIARITY
Arriving in Innsbruck from India, Shauna and I (and I would imagine a lot of the WC athletes) breathed a collective sigh of relief. We were grateful of the opportunity to visit such an interesting country, but the heat and humidity was a constant battle, one that left us feeling suitably tired. Looking out of the window from our aeroplane seat, the sight of European land was pleasantly familiar.
Woken by church bells rather than car horns I donned a down jacket and wandered out of our apartment to seek out the local bakery. I was actually dancing around making breakfast. I felt so happy to be somewhere familiar. The sun was shining, there was a gentle breeze and the alpine air felt cool and refreshing. It was so ... quiet.
During our stay in Mumbai we ate all of our own food, having carried it with us from the UK. I was worried about changing my diet quite drastically to Indian food and was nervous about being ill. The food in India was so tempting! I can't begin to describe the mouth watering smells that filled the air as we walked past restaurants and cafes. Unfortunately changing my diet in such a way, midway through the season with competitions scheduled so close together, would not be the best way to help my performance. So, for four days we made do with instant porridge and boil in a bag food.
We ate our first breakfast in Austria on the balcony. Freshly baked bread. Juicy fruit. Proper coffee. It was delightful. I'm a fan of my creature comforts [more on those in another post], and for me a big one is food. So brekkie definitely had me smiling!
Whilst writing, at this point I am very aware that it sounds like our time in Innsbruck was a bit of a jolly. In the past, people have spoken to me and compared our travel itineraries to holidays. We have a lot of fun, there is no doubt about it, but we definitely dont make the journeys to these countries for holidays or to relax, we travel with the mindset that we are there to compete ... essentially to work. But the return to European soil, climate and culture definitely had a relaxing effect and felt a lot easier.
***
CITY OF COLOUR
This was the third time that I had visited Innsbruck. I always enjoy spending time there and exploring and I have to say that the more time I spend there the more it grows on me. We went for a walk around the city between our apartment and the competition venue and I wanted to share a few of my favourite views.
***
INNSBRUCK OLYMPIAHALLE
The competition itself was held in a different venue to previous years. The Olympiahalle (or Olympic Hall) was built in 1963 to host the 1964 Winter Olympic games. It also played host to the 1976 Winter Olympics and various other significant sporting events, not to mention concerts. Tina Turner, Marilyn Manson, Lenny Kravitz and Iron Maiden have all graced the stage in the arena, but now it was our turn to be rockstars.
With several thousand spectators in attendance, the crowd and atmosphere was electric. As always, the experience of competing in Innsbruck has been one of the highlights of the tour so far. It gave me a bit of a taste for how the Adidas Rockstars event might feel ... and I am glad of the experience because I received my invite earlier this week! Very excited for that.
BEHIND THE SCENES - 3 NUGGETS OF INFO
1) Innsbruck was the first round that we had managed to hire an apartment rather than stay in a hotel. Whilst this might sound like an unimportant detail, it makes a pretty big difference to our overall mentality. For example, cooking own food. Being able to eat what we want, when we want, how we want ... makes a massive difference both psychologically and physiologically.
2) While we are travelling between rounds we still have to make time to train. In Japan we did this in a park on a portable Beastmaker. In Innsbruck we had Tivoli, the local gym. A lot of the other teams have a similar routine and we often climb together with them. On one visit to Tivoli we bumped into the Japanese team and Aya Onoe approached us after seeing our "yogabatic" antics on Instagram and asked if she could try some. Naturally we said yes!
3) Like I said earlier about creature comforts ... I love them. And so with a day of rest scheduled before qualifiers and the weather being particularly rubbish we did the only thing that any self-respecting competitor would do ... we took a DUVET DAY.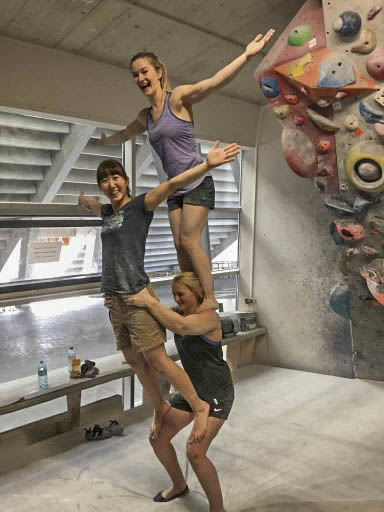 ***
A SPECIAL MENTION
Before signing off I want to give a special mention to Shauna, who not only won her fourth gold of the season, but also finally nailed the handstand. Since we started training together way back in October last year, I have been trying to teach Shauna how to execute the perfect handstand. What do you think? Has she cracked it?
So that is it for now. It's time for me to head out to the USA and prepare for the next round of the competition in Vail. I'll be travelling with Shauna & Mark and we will be spending the majority of our time in Boulder with Jackie Hueftle ... doing our best to train and acclimatise ready for the sixth IFSC Boulder World Cup of the season.
I'll check in with you again soon, LC x